Our Shelving System Just Gets Better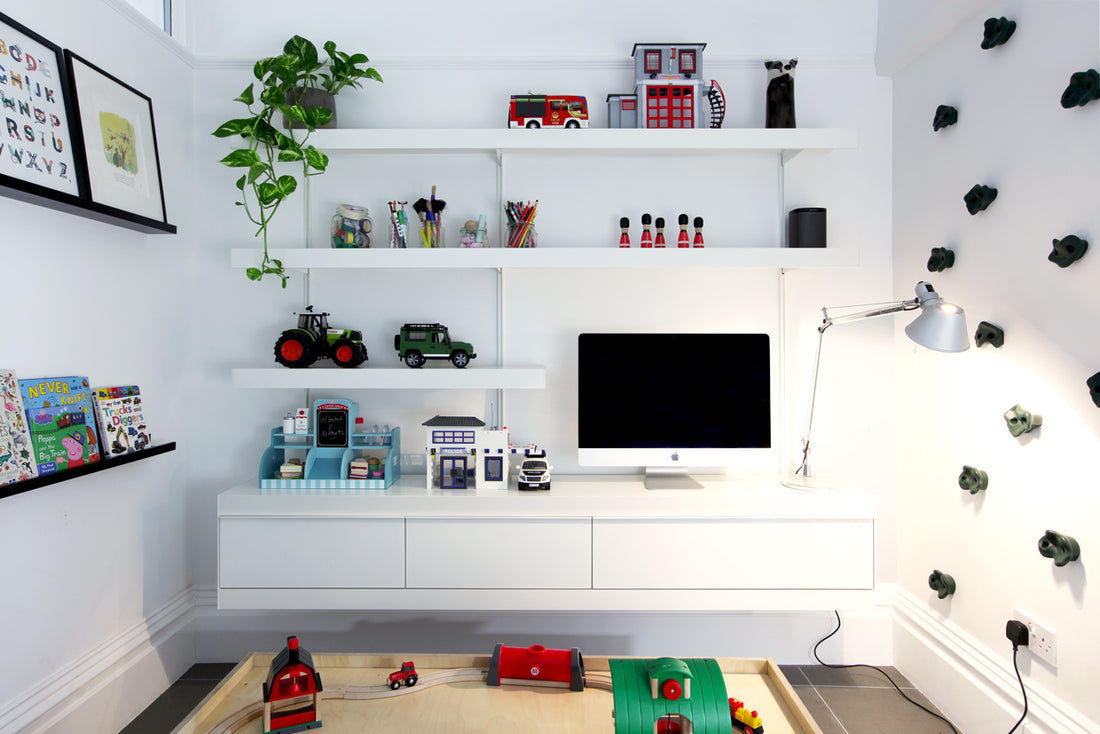 Posted on
If you're interested in any of these please speak to our planning team and they can help design you a system. We also have more detailed information about how to design and set out our systems in our shelving system guide. Take a look at our wall cabinets and other new made to measure parts below, we hope you like them!
Made to Measure Cabinets
Our cabinets are designed to help tidy things away, improve your storage but can be also used to create specific furniture pieces like Tv walls, Tv units or wardrobe units. They are made to measure and come with either fold down doors or drawers. The cabinet depth is 345mm where the lengths are made to measure, drawer cabinet lengths are multiples of the drawers (60 or 80cm draws) up to 330cm, while cabinets with fold down doors are made to any size up to 160cm.
Cabinets can be linked in order to make much longer shelving systems, so as an example you can position a FDD cabinet next to a draw cabinet next to a FDD cabinet until you create the correct length. Cabinets are made from aluminium with powder coated finishes in black or white. Bespoke colours are available but please speak to our planners for further details.
Clothes Hangers
Our clothes hangers are made to fit either a 65cm or 80cm wall rail spacing and come in a chrome, black or white powder coated finish. Clothes hangers can be combined with both 255 or 345mm shelf depths. We would recommend leaving a hanging space below of at least 100cm (shirt or coat lengths) and combining them with either deep shelves below or cabinets to help store boots and bags.
Made to Measure Desks
Our floating desk has a depth of 52cm including the fixings and the length is made to measure. Standard sizes are 80-330cm but specials can be made up to 5m in length. Finishes are black or white and our desk cable tray can be connected directly below the desk to hold extension leads or any excess cables.
We recommend combining our desks with shelves above, this gives you additional storage space above. The shelves can be set out with heights for large folders or small books which ever you prefer, we think that the first shelf above is great if you use one of our shelves with lighting so it lights your whole desk.
How do I buy an ON&ON shelving system?
Our shelving systems can be designed into many different places so If you need help with any of our parts or would like us to design a system for you please speak to our planners or visit our how to buy page. All we need to start planning is the height and width of your wall and an idea of what you are looking for. If you are looking for more ideas take a look at our gallery and see how some of our customers have used our shelving system.