We are surprised to see how popular wall to wall floating desks are considering they are difficult to buy or make yourself, we've attached a few good youtube links so you can see how professionals make a wall desk and see the effort that goes into it or even an Ikea Hack. We've been making shelves for years but last year we launched our floating desk. For something so simple we've spent a lot of time and energy getting it correct. We've spent years observing how people work in home and office environments. We've been researching and testing the size, height, depth, finishes and cable management as every aspect and decision is increasingly important during the design phase.
Every inch of space is now more important with everyone learning to live or work in smaller homes and spaces. So we have sized the desk accordingly, appropriate for modern day spaces and new technology. We will be posting a new article soon that will cover our concerns about the majority of new homes being built, how they are designed and the relevance of the numerous Housing Design Guides.
We've attached a few images so you can see the wall desk and some of the parts but we will add another section that shows all the prototypes we produced to get it correct and also a installation video.
Wall mounted floating desk
We have designed the ON&ON wall desk to be fitted as part of our shelving system and now it's been simplified enough that any competent handyman or builder can install it. This means that you can get the best from both worlds, a made to measure desk system that will fit your space perfectly but with DIY installation and fitting. To help we have also provide all the instructions and tested fixings for solid and cavity walls, all manufactured and packed in our UK workshop before being sent out to our customers.
Our desks are made to measure and we make all our standard desks any length up to 3m. We can also make specials up to 5m in length but please ask our planners for details, they are a bit harder to pack and transport. As our desks are made to measure it means they are great at running them from wall to wall or fitting into smaller more awkward alcove spaces.  As they fit correctly we are not wasting any valuable space.
Our desks are formed from a combination of materials and parts making them strong and durable. They are exceptionally strong and will not sag or bow as we combine our desks with aluminium parts, so you can use them for large desktop screens, books and printers. The top finish is a hardwearing Formica laminate that will last for a very long time. We've tested other materials that are more sustainable or environmentally friendly but at the moment we haven't found anything suitable that doesn't wear or pick up dirt easily. Our desks can be positioned at any height so long as they are in contact with our wall rails, which allows them to be moved up or down and then be fixed into position. Standard heights for a desk are 720mm or 72cm from your floor finish so if you speak with our planners this will be the standard height that they are set too.
There are a number of parts that we would recommend adding to our wall desk system:
Try adding shelves above the desk to improve the overall strength of the system but also to create more filing and storage lifted of from the floor, with more storage space above there is plenty uninterrupted space for your legs and chair underneath.
 Try adding lighting above your desk, it's not a spot light and no need for an desk lamp which create more of an intense light or hotspot when trying to work, but it is a continuous light that creates a wash of light from the shelf above so you can work at your desk even without a room light on. Add lighting for better performance, so there is no need to strain and it just makes it a little bit easier to work even if it's late.
Our cable management helps to declutter your work surface ensuring it is a clean and uncluttered space helping you focus and concentrate. Any cables needed can be mounted and stored in our cable tray positioned directly under the desk surface, all cables can be fed behind the desk along its full length and plugged into a extension cable mounted into the cable tray. This is to limit the amount of visible cables but also to ensure you don't have any trailing along the floor.
Combine our desks with our made to measure cabinets to help organise yourself and hide things away.
Use our accessories to help manage your books, files, bits of paper and miscellaneous items. All made from aluminium and finished to match your shelves and desk.
Desk extension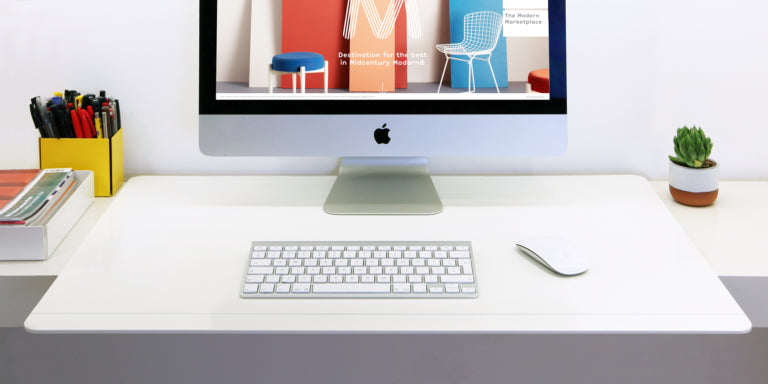 There are different ways to configure our system depending on what you need and we may not even recommend a full wall desk but a desk extension. Our desk extension works with our deepest shelf and can be positioned and fitted on to the top surface. The size is 800 x 500mm (80 x 50cm) which means it can be positioned anywhere along a deep shelf but can also be easily removed if needed. It's machined from aluminium and has a powder coated finish, standard colours are white or black to match our shelving although we are looking for at introducing a new grey, yellow and red finish. It's the perfect size for a single workstation or great if you have a small space but also if you want to include cabinets below.
If you're interested in our wall desk system we can help create you a great place to work even if it's only in a small space. All our helpful planners need is the height and width of your space to start. The planning service is free of charge where we will help design and cost you a system. If you want more technical information about the desks or shelving system try downloading our shelving system guide.