Take a look at some of our short time-lapse videos so you can see how our planning service works, we have a team of planners who can help advise, set out and design your system completely free of charge. In the videos you can see us setting out some of our customers shelving systems, we will continue to add videos so you can see the variety of systems we design. All we need to start planning is the height and width of your space and an idea of what you are interested in, this could include the room type, main function, shelf depth, finish, and if you need any cabinets, desks or clothes hangers. If you want to provide us with more information it can be helpful, take a look at a few of our customers sketches and photos sent to our planners click here.
As part of the service we recommend the number of wall rails, their size and how they are positioned for every system, after producing a drawing you can then check the sizes and spacing we have suggested. The shelving can be adjusted up or down after installation but we aim to get it correct during the planning stage. We continue to adjust the configurations and drawing until you are happy with the quotation, layout and design of the system.
Workstation or home office shelving system
A standard desk height is 720mm from the floor so we have used this as a starting point for the design, instead of a full length desk we have recommended using a smaller desk extension that can be positioned anywhere along the 345 depth shelf with a cabinet underneath. Additional smaller shelves could also be added in on the right hand side.
TV unit & Media shelving unit
Our customer provided the the height and width of both walls with two photos and the main function of each and left us to work out and recommend the rest. Our customers are now able to check both heights and spacing are correct, we can then revise and adjust the drawings and quotation.
Wall to Wall shelves
Our customer provided the the height and width of their space and the number, depth and finish of the shelves they are interested in. We've recommended reducing the shelves by 15mm at each end of the shelf to allow for a tolerance and uneven walls, we have set out the shelf heights all at 335mm as an example, so that it shows the space created below the bottom shelf but also the space created at the top. Our customers are then able to check book or ornament heights to see if the spacing is correct, we can then revise and adjust the drawings and quotation.
Making changes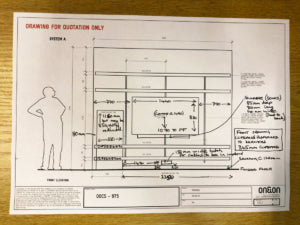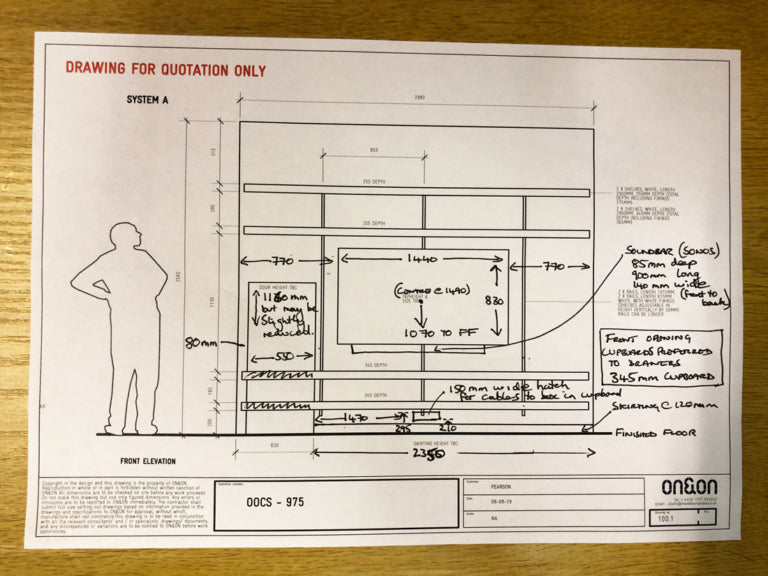 When you receive a drawing from us if it's not exactly what you are looking for just tell us, you can call us, email us or draw back over the drawing to tell us what you want. It's a simple low tech process that works and ensures you get what you want. To start with all we really need is the height and width of your wall, but take a look out our how to buy page and shelf builder form which helps us get all the information.