Freestanding & modular alcove shelving
We started with the most accessible places to buy wall shelving. We looked into freestanding units at John lewis, Habitat and a few others. Some of the freestanding units are easy to assemble and looked good, but we didn't like the unused space around them and thought it looked like an after thought or later addition to the room. We wanted to avoid the Ikea shelving route as we were looking for something better made and that could take heavy loads. Most of their single shelves are easy to wall mount, but are difficult to fit or adjust if you want a large number of shelves in one area.
We came to the conclusion that we wanted our shelving to properly fit the space, for the shelving to be a part of the space and designed into the room or building. We even looked at modular shelving systems and found the same thing, you can choose from different sized modules so you can try and use the best size or a combination of sizes to fit, but we kept finding we were left with either too much space or the modules were too big. Living in apartments and flats made us understand that every sq/cm of space counts, it took some time for us to realise we needed fitted shelving.
The other option was to look at the other end of the market, in our view really well made but very expensive designer fitted storage systems and this was way beyond our price point and not quite the right look for us.
Bespoke alcove shelving by cabinet makers
So for us it was either the DIY route or pay a carpenter or cabinet maker and spend the time to design it with them. This could have been ok, but the good cabinet makers like good builders are always very busy and getting several quotes seemed to take weeks. Prices do vary and you can pay a lot, but fitting is very labour intensive and will usually take several days. They are normally built from MDF and so are cut, trimmed and glued on site to fit. Alcove shelving built from MDF/particle board then has to be primed and then have one or two coats of paint applied which will takes another day or so.
We also didn't want traditional looking alcove shelving or cabinets with embellished trims or moldings. We obviously like modern buildings but we also like old properties with traditional features, but tend to combine these with modern or contemporary furniture.  All we wanted was for our shelving to be simple and a well made part of our home, something straightforward and uncomplicated.
DIY alcove shelving
For many people DIY used to be the best way to improve your home, and now there's some great articles and websites to give you advice along the way. We specifically liked this alcove shelving article www.practicaldiy.com as there's plenty of detail and if you're not experienced in DIY and it's your first home in our opinion the more detail the better. It is a great way to add storage and display space to your home.
This is how we started ON&ON, building wall shelving over the years for our own home, designing and making something that's well made and fits. We understand the time, effort and costs that are needed to make your own shelves, and we can tell you after you've bought all the materials, cut and fitted everything you then have to spend several days priming and painting everything. Many people do build their own alcove shelving and it is rewarding and great to hear, but we can tell you from our own experience it's really hard work and very time consuming.
ON&ON alcove shelving
If you're interested in finding a happy balance between cost, quality and service we may be the best solution for all your alcove shelving. Our shelving system is great quality, made to measure and easy to fit and includes cabinets, clothes hangers and wall desks.  The system can be designed and configured in many different ways.
White alcove bookshelves
Our wall shelves are perfect for book shelving. They are designed to be strong and can hold heavy books even if the installation is onto a cavity or plasterboard wall. You can choose from 2 depths of shelves 255 (25.5cm) or 345 (34.5cm) depths and both are available in black or white finishes.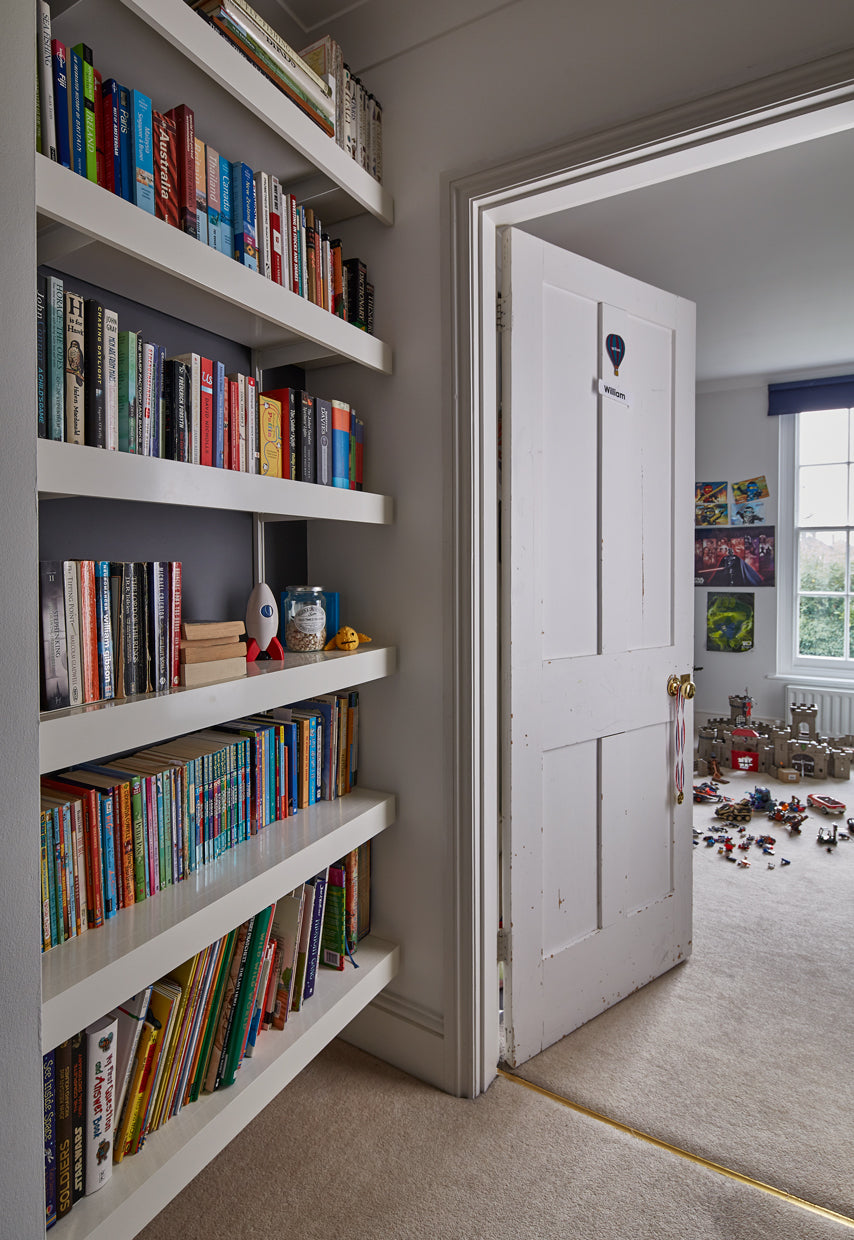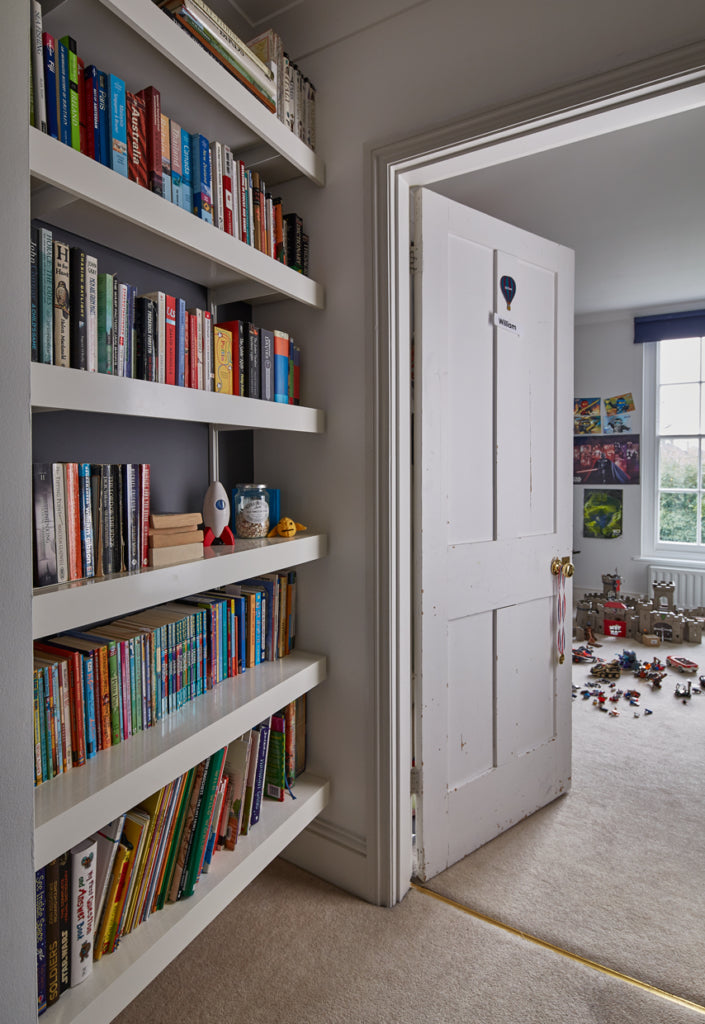 Our shelves can be cut to any size making them perfect for small alcoves or even running them from wall to wall across a room.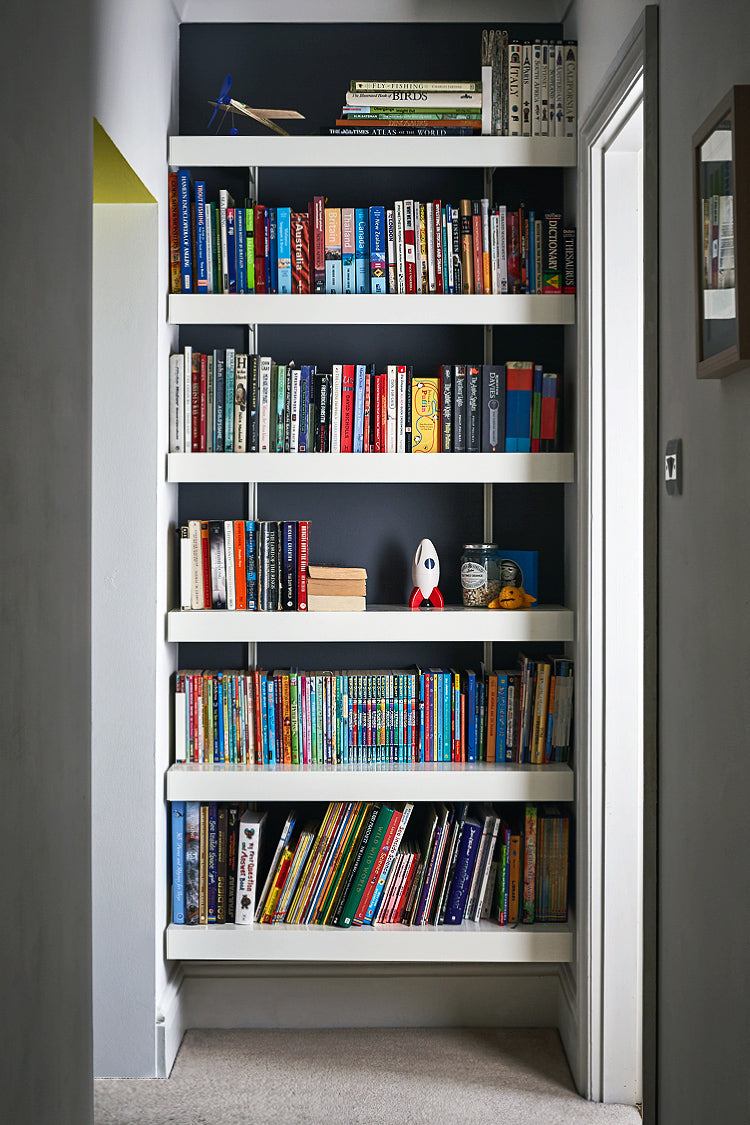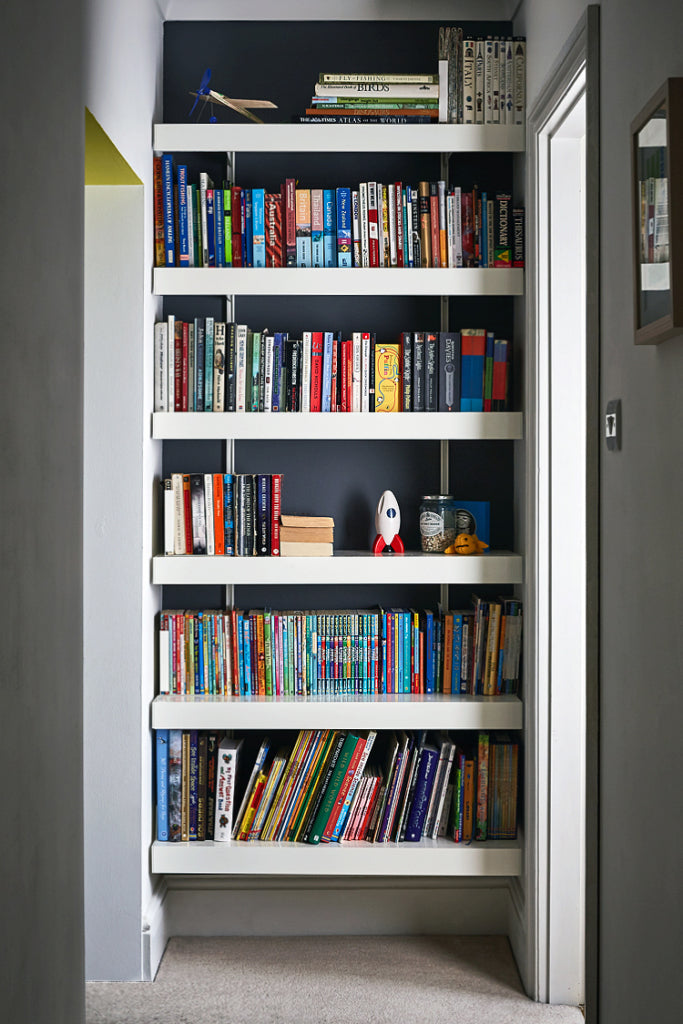 Living room alcove shelving
Shelves can be spaced at different heights and can be adjusted even after installation creating different display or storage areas.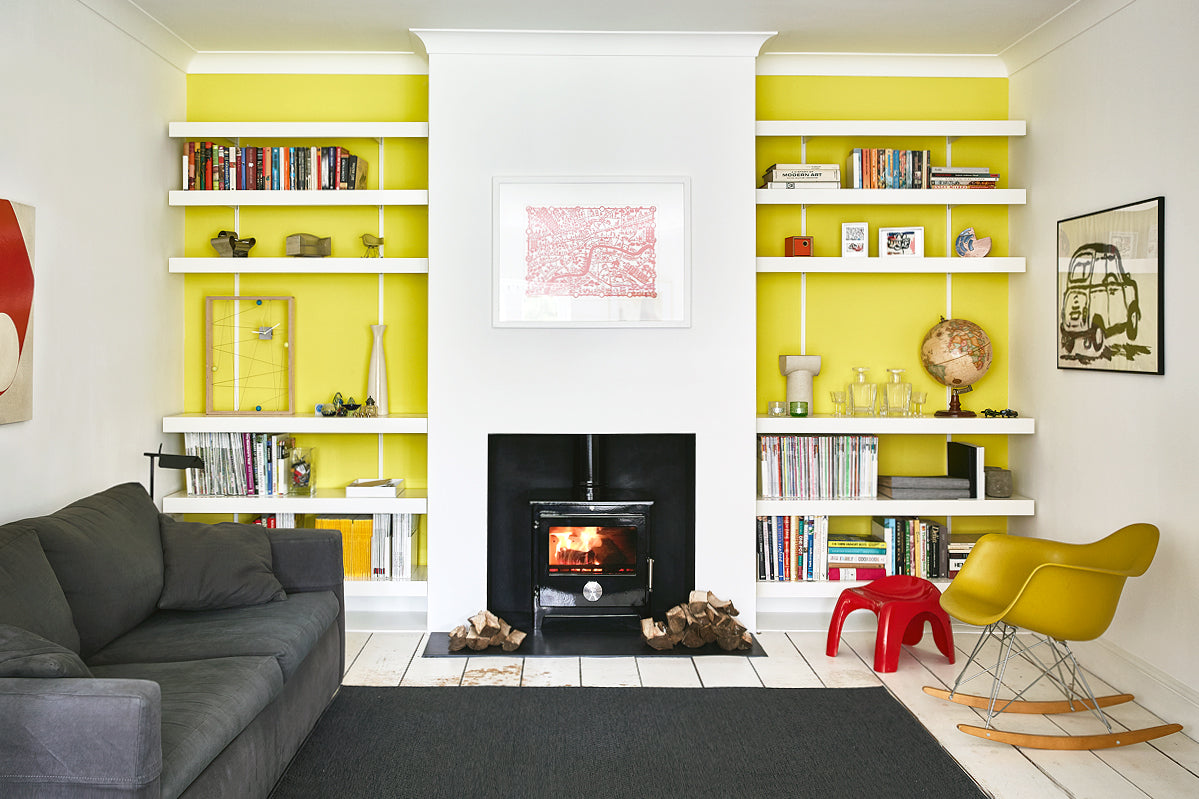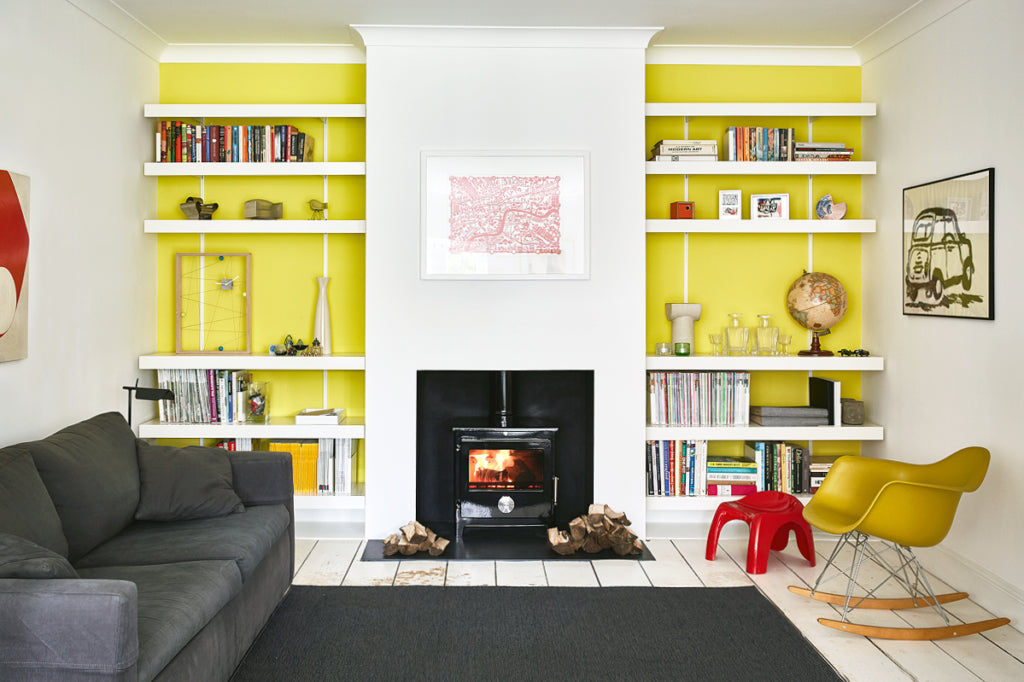 Our shelves will fit even if both your alcoves are different widths.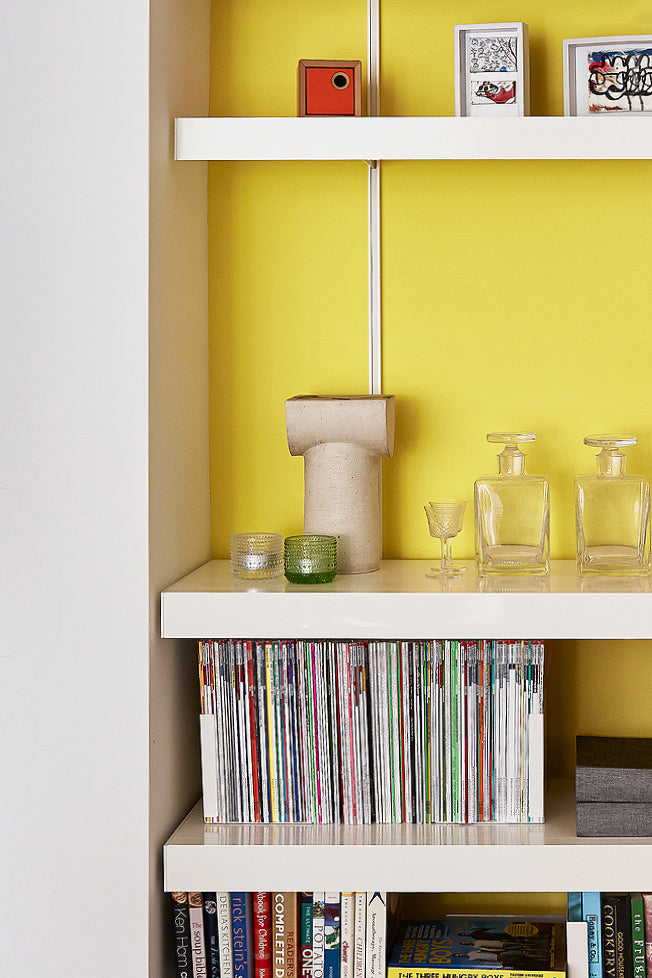 Both shelves 255 or 345 depths do not touch the alcove side walls giving them the appearance that they float with in the space.
Alcove shelving with lighting
You can choose to have different finishes or undershelf lighting in your shelves. They are simple to design into a space, although they do need a wall power socket close to the bottom shelves. All the cables are concealed inside the shelves and wall rails so you don't see any visible wires.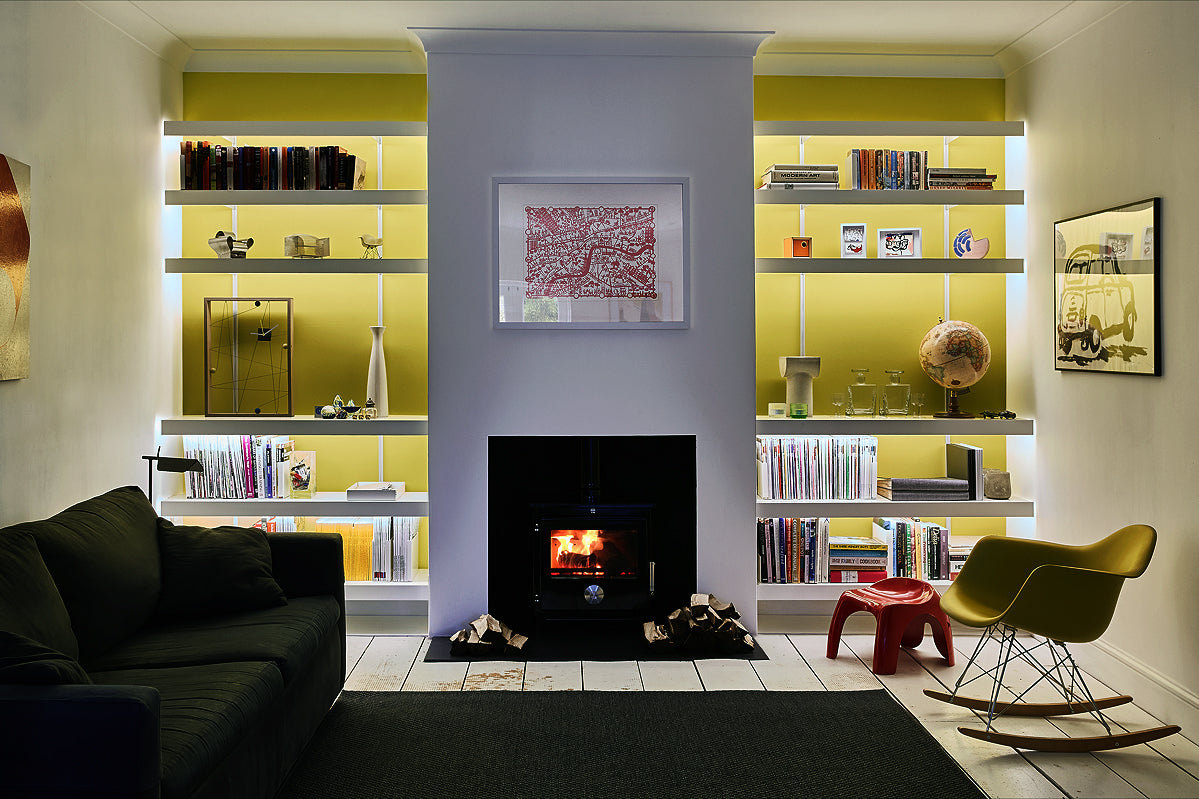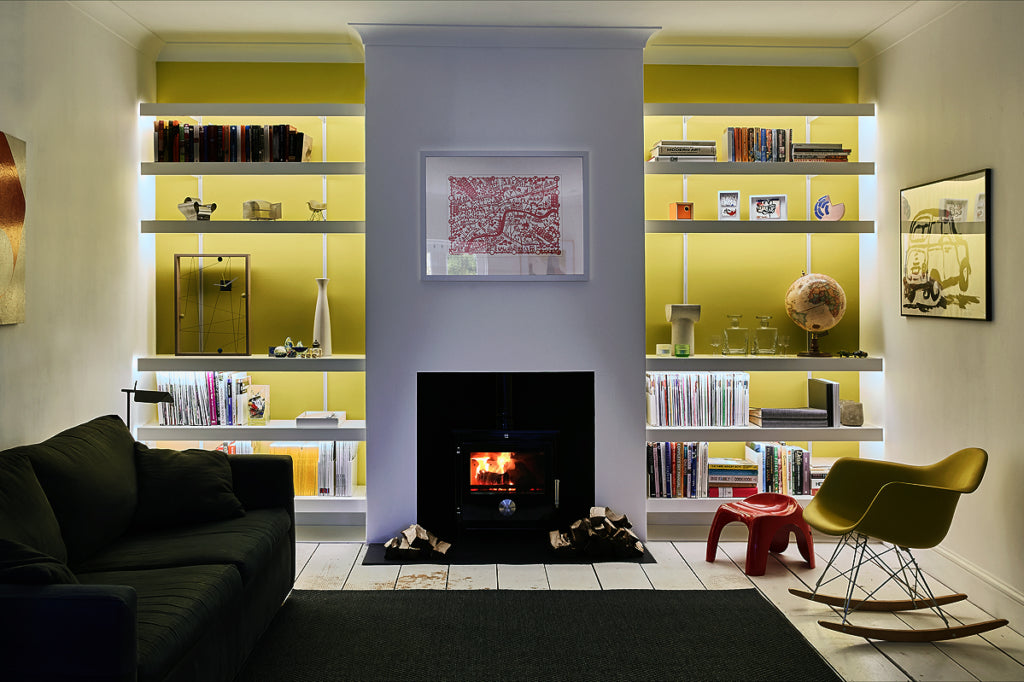 You can turn your alcove lighting on or off via the local wall socket, alternatively we recommend using a smart plug or similar. This allows you to control the lights using a smart switch, mobile phone or tablet. If you use the correct setup you can set timers and routines so they come on or turn off at the correct times.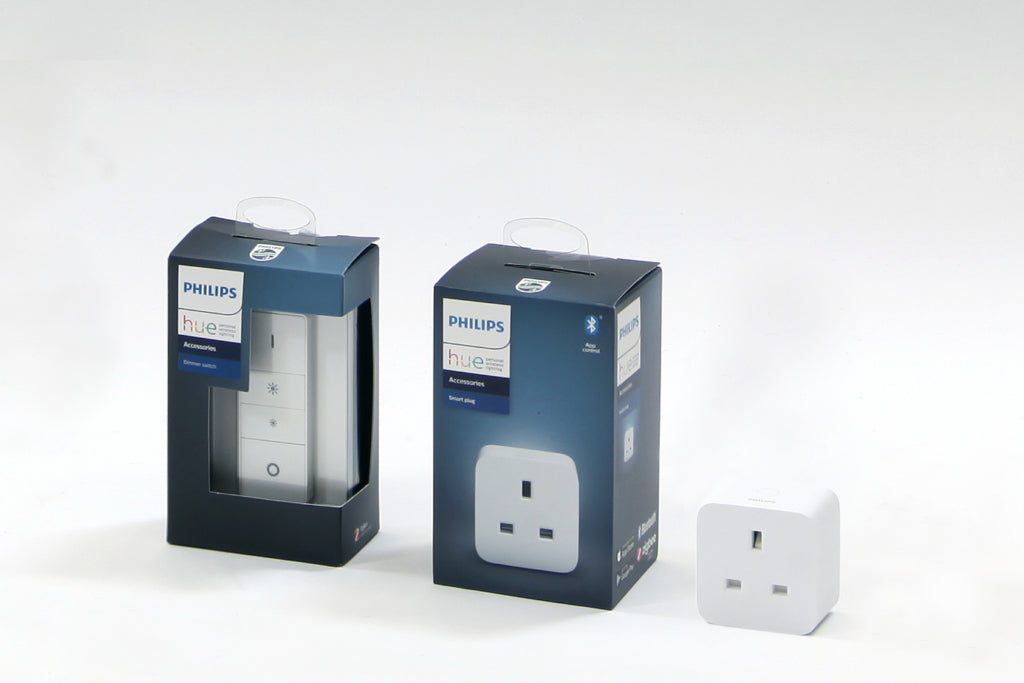 We have tried a few systems and would recommend Philips Hue bluetooth switches and plugs really because the interface is so simple. Soon we will be doing a full review and post about how you can get them set up and working.
ON&ON Alcove design and costs
To help explain our system we have included a design guide showing how you can set out our shelves but also our desks, cabinets and clothes hangers. Download our alcove shelving design guide which also includes our alcove prices.
Alternatively our planners will design a system for you. Let one of our planners know what you would like, they will help advise, set out and design your system completely free of charge. We do this via phone, email or site visit where we provide drawings, samples and costs to ensure the design is perfect for you. All our planners need to start designing is the height and width of your alcoves and if possible a photo.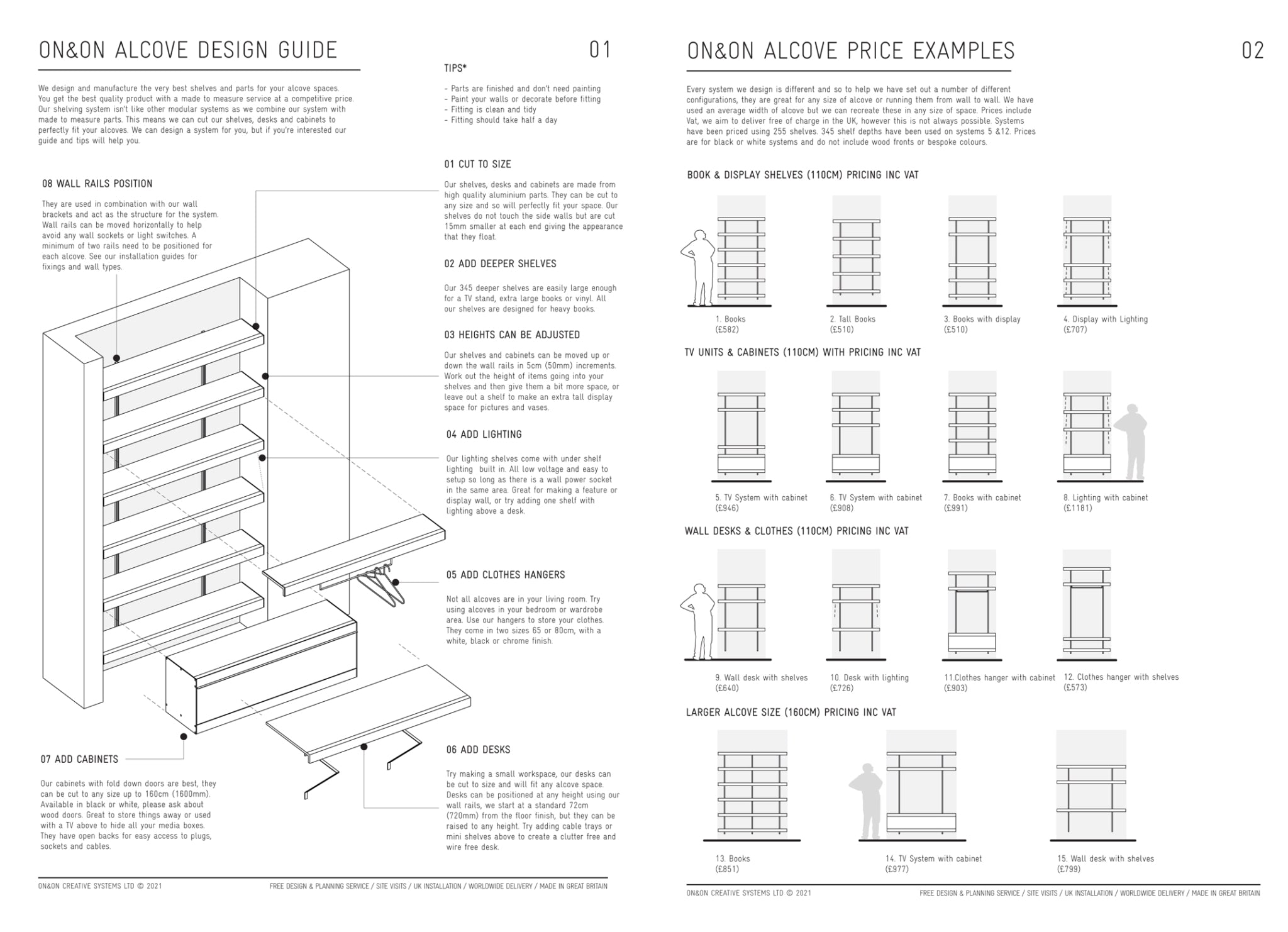 Measuring your alcoves
Download our measurement guide for alcoves and wall to wall systems as a high percentage of rooms do not have square or plumb walls, we recommend taking several measurements and then giving us the smallest to base our design around.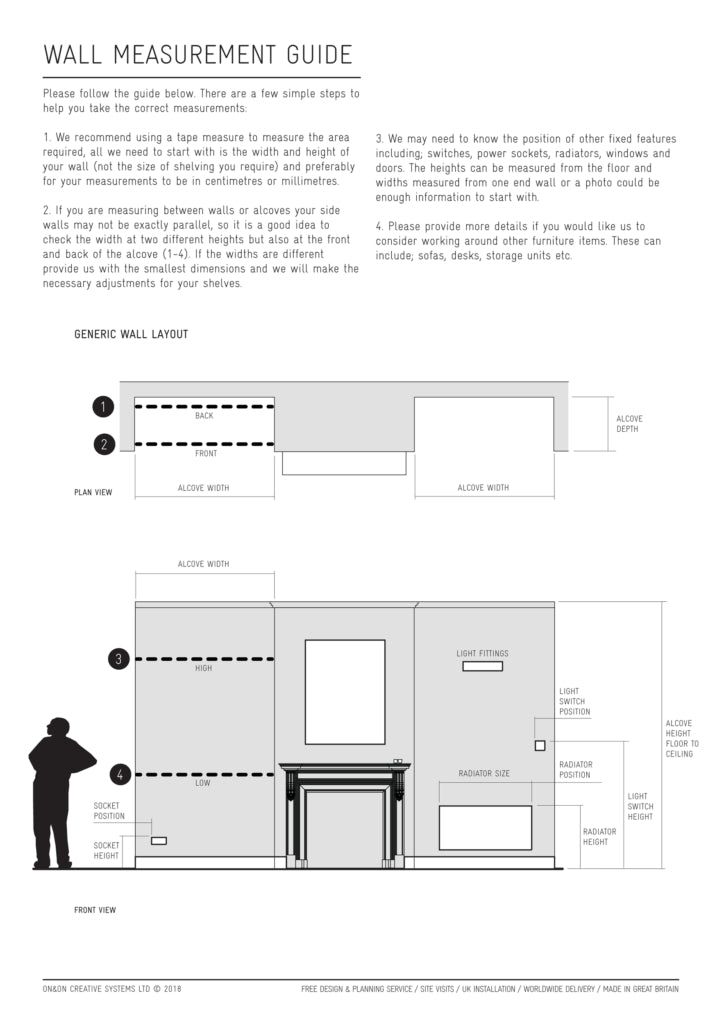 Free planning service
Our planners will produce designs and costs for you until you are happy with both.  Draw on top of our drawings if you want to make any changes or use them as a guide to see if you have the correct sizes and heights. Use our sample service to help choose your finishes.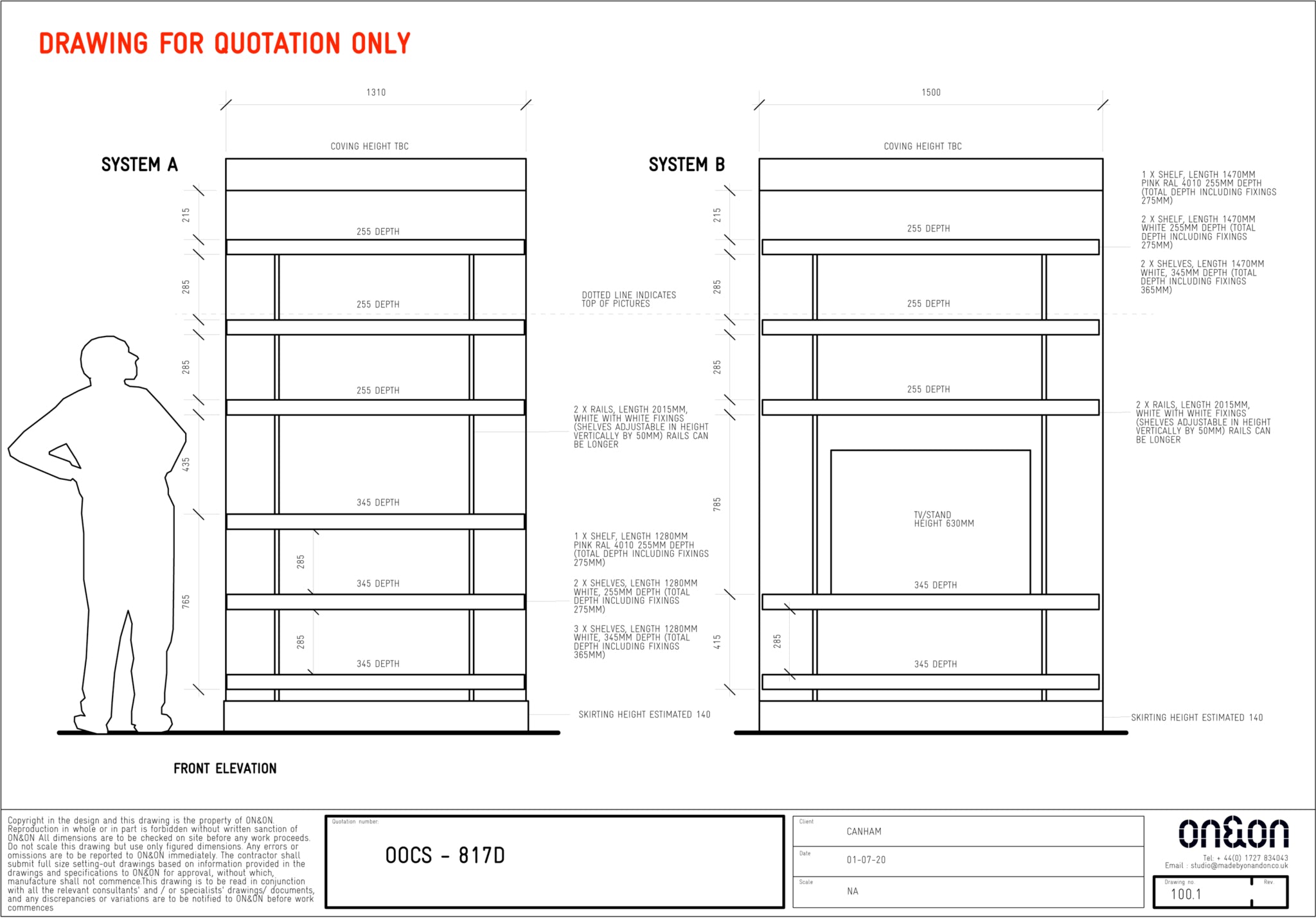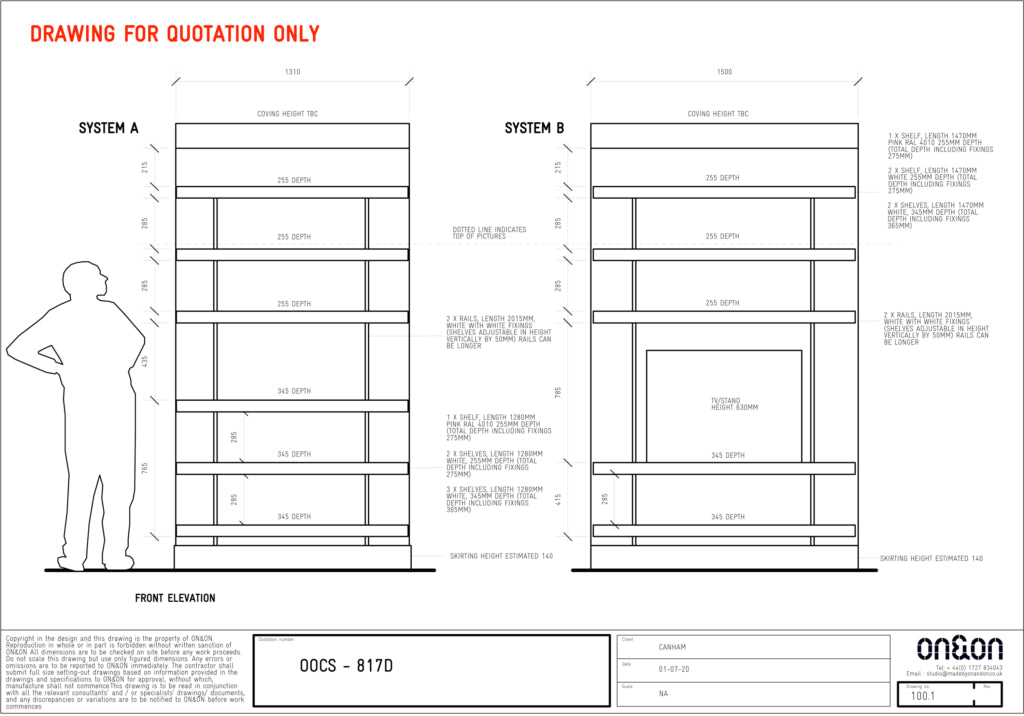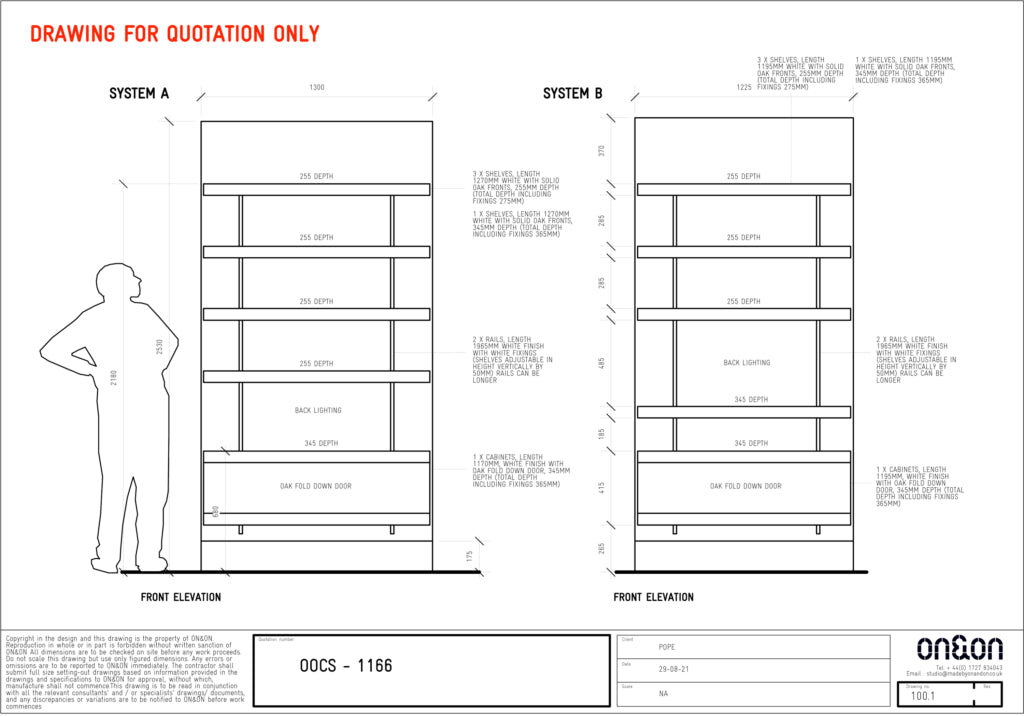 If the post looks unfinished it is…..We are continuing to update this post to fully explain our system, how it works and how it is fitted. If you need any more information or photos of alcoves just ask or email our planners. Many thanks ON&ON